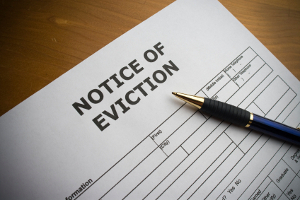 While no one likes to acknowledge that it can happen to them, evictions are an ever present concern when you own rental property. We try to avoid them with comprehensive background screening upfront, but while this screening does drastically reduce the likelihood of evictions, it does not eliminate them. One of the top concerns most new landlords express to us is that of evictions.
This is where having your property managed by Integrity Realty & Management pays dividends. For no additional charge from us, we will officially serve the tenant with the required demand to pay notice. If the tenants still do not comply by paying the full rent owed, we prepare, file, and oversee a speedy eviction at no additional charge from us.
When Are Evictions Necessary
Deadbeat tenants that are behind on rent, coming up with excuse after excuse for not paying.
Tenants damaging your property or not complying with the terms of the lease.
A professional tenant that knows how to work the system and is giving you the run around.
Go on to our next service: